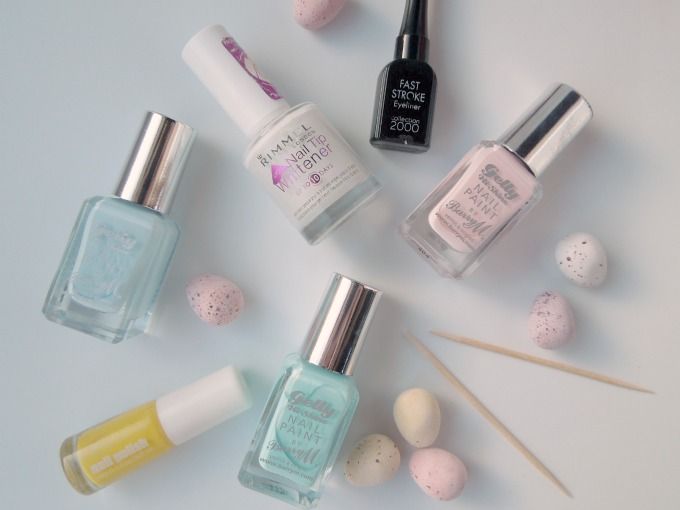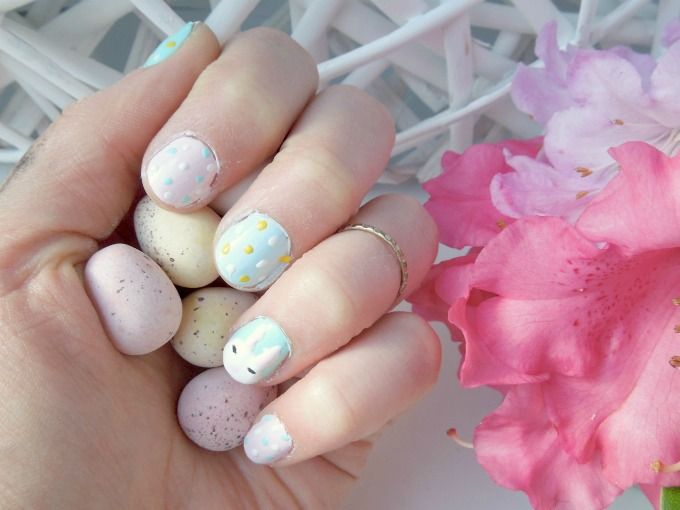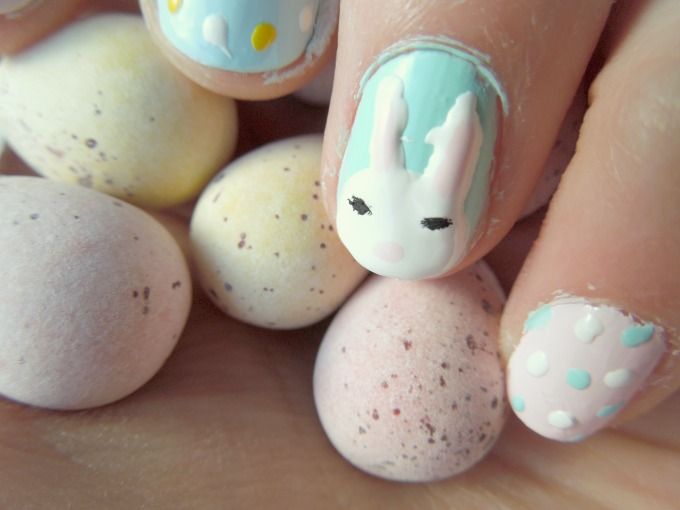 Happy Easter!! I hope it's been egg-cellent (if you can't make bad easter puns today, when can you?!) and full of chocolate, family time and maybe even an Easter egg hunt or two! I spent mine at work and can't wait to settle down to catch up on MIC with a creme egg or three. I've been seeing spring/Easter nail art popping up all over the place and was inspired to give it a go myself. I started out quite simple with some polka dots and added a little bunny rabbit as an accent nail to give it a bit more of an Easter theme - but you could easily leave this out and just do all the nails with little dots. I used pastel colours to keep it light and fresh, and I really like how they turned out! Ok so the rabbit could be a bit more neat but nobody really gets that close to tell...
1. First paint your nails in your chosen colours - I used Barry M's pastel Gelly nail paints in Sugar Apple, Huckleburry and Rosehip (review coming soon!)
2. Grab a cocktail stick or any other dot creating tool you want (the end of a paintbrush, fancy nail tools, a pencil...). Dip it in the colours you want to use - mine are a yellow from H&M, Rimmel's Nail Tip Whitener and Barry M Sugar Apple.
3. To make the accent nail, using your white polish paint a semi circle at the tip of the nail. You could make a stencil from paper, I freestyled it and hoped for the best! Using another cocktail stick, draw on two ears. Wait for this to dry before dipping the other end of the cocktail stick in a pink polish - I used Barry M Rosehip. Carefully draw a line down the middle of each ear, and add a small dot for a nose.
4. Using either black nail polish on a cocktail stick, or an old liquid eyeliner (mine is from Collection 2000) dot on two little eyes.
5. Finish with a coat of clear nail polish to seal everything into place!
Voila - easy peasy spring time nails with a little Easter detail! I hope you enjoyed this little tutorial and would love to see your nail designs too!
Labels: Barry M, Collection 2000, H&M, nail art, nail polish, Rimmel