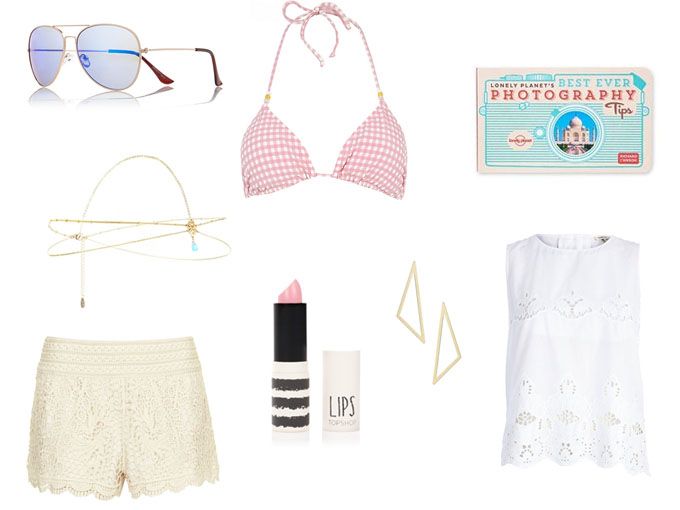 Clockwise from top left:
1.With all this sunny weather we've been having, sunglasses are a must - the blue tinted lenses on
these
make them a bit different.
2. River Island have really hit the nail on the head with their holiday wear at the moment! How cute is this
pink gingham bikini
?
3. The Lonely Planet travel guides are literally my bibles whenever I go somewhere new, they just seem to include all the information you could ever need! This looks like such a
handy little book
and to be honest, I will value anything the Lonely Planet has to say!
4. Yet another River Island find, the cut out details on
this top
are so pretty. I think this would look great with some denim shorts and a tan once summer arrives.
5. I really like how simple and understated these
earrings
are - gorgeous and minimalistic but would still make an impact! The perfect accessory.
6. Topshop makeup is always a winner, with this
pretty pale pink
topping my wishlist at the moment.
7.
These shorts
look perfect for festival season, casual and easy to wear. My mum would tell me that cream is no colour for a muddy field but I'm crossing my fingers for sunshine not rain!
8. Another festival themed choice,
this hair crown
is just so pretty! I wouldn't normally wear this but during summer and especially at festivals my style changes a bit and this would fit the bill perfectly.
Labels: wishlist