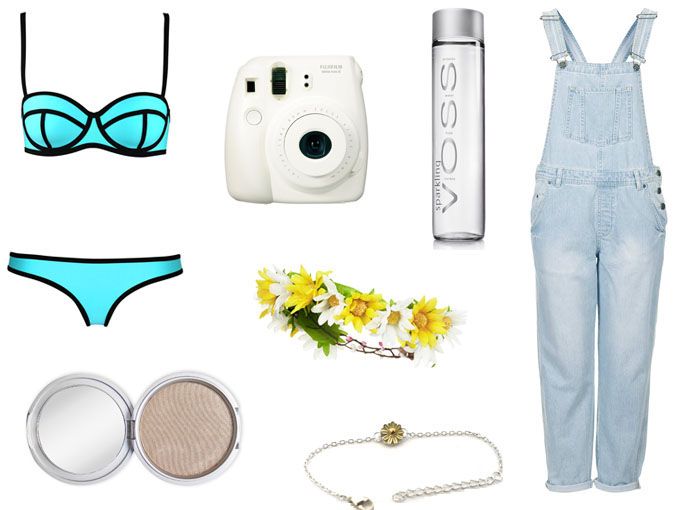 Happy Wednesday! Another week, another wishlist and there are quite a few things I'm lusting after at the moment (mostly inspired by the amazing weather we had and the fact that the holidays are almost here!).
Triangl bikinis are absolutely everywhere at the moment but it wasn't until I went on their website the other day that I realised they do
this design
as a bikini as well as underwear! The colour is perfect and although it's bright I feel like it may actually work with my pale skin which is a bonus.
Another product which seems to be very popular at the moment are the
Fuji Instax cameras
. I love how compact this model is and the fact that it comes in lots of different colours, I have wanted an actual polaroid camera forever but what with the film being difficult to get/really expensive this might be a better option.
OK so yes this is essentially a bottle of water on my wishlist, but there is one hanging about in my kitchen which belongs to a housemate and the bottle is so pretty it would be the perfect home accessory once all the water is finished. I'm not a believer in mineral water etc. perhaps because the water I drink at home from the tap is literally spring water but for
this bottle
I could be persuaded!
I am so glad that denim dungarees are back in fashion although with the amount of Friends seasons 1 - 3 I have been watching I'd probably wear them anyway! I'm trying to find some good second hand ones but if that fails,
these
are just waiting in line to be bought!
LVNDR jewellery is so pretty and delicate and this
daisy bracelet
is no exception. Delicate jewellery is definitely my favourite and with this it would be like wearing spring/summer on your wrist always! Continuing on the daisy theme, how pretty is this
floral crown
?! The perfect festival accessory.
The Balm is a brand I've always liked but never bought from, but this might be about to change as I was recommended the
Mary Lou Manizer
recently as a product which is great as a highlighter or to give an all over glow. Anything involving the word luminizing is pretty much sold to me!
What's on your wishlist this week?
Labels: wishlist