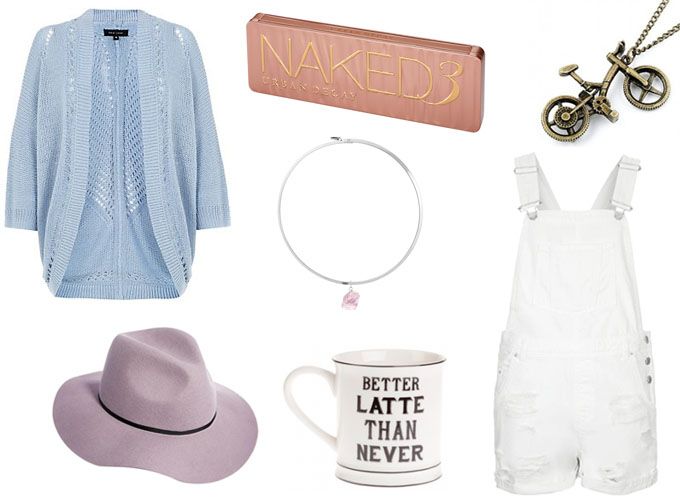 What a difference a week makes!! 7 days ago I was writing a wishlist with a bikini and floral crown, now it's all knitwear and coffee cups - I blame the weather which has taken a turn for the worse causing layers and hot drinks to become much more essential. Nonetheless my eyes are firmly set on Summer time, with only 2 weeks to go until I pop off on holiday - it always helps to have something to look forward to!!
I love the pastel colour and the fine knit of
this cardigan
and it would be the perfect accompaniment to breezy summer evenings: let's face it, it can get hot in Britain but it doesn't get that hot! Sometimes we need that extra something to throw on when it get's a little bit nippy but a coat is just too much.
The Naked 1 palette is my go to daily staple, and now that the
Naked 3
is out every day brings me closer to caving in and going for it! With it's array of more rose toned shades, it's different enough to be worth it and just.so.pretty!!
A recent find, Sara Sister Vintage have some great pieces for (sometimes literally) pennies. I'm loving their midi ring collection but this
bicycle necklace
really caught my eye, it's so whimsical!
Last week was full length dungarees, this week the obsession continues with
these shorter white ones
. I just think they are so versatile and easy to wear whilst still being ridiculously cool! They would look great with a tan and a stripey tee underneath.
It took me a few looks to get the joke on
this adorable mug
, but now I do I just want it even more. How cute?! Perfect for those morning cups of coffee :) I would also use this as a vase, it's clearly very multifunctional.
Fedora hats are pretty much everywhere, and I was sold when I saw Binky wearing one on Made In Chelsea (which I have had to take a little break from, it's just too upsetting!). Now that summer is here, this
lilac option
is perfect as a lighter alternative to classic black.
Last but definitely not least, this
rose quartz choker
might be sold out currently (booo!!) but I'm keeping my fingers crossed it comes back into stock really soon! The colours are so dainty together, did anyone else used to wear chokers all the time when they were younger?! They were definitely all the rage, I'm glad to see them back in our lives now :)
Hope you're all having a lovely week despite the weather!
Labels: wishlist