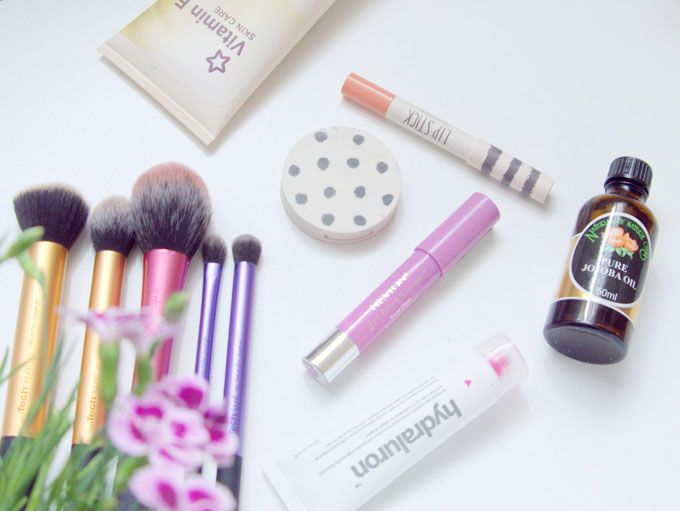 Happy Friday!! Even though in fact I have to work tomorrow, I'm so happy it's the weekend! Today I thought I would sum up those products which are now staples in my (and for a few of them, probably everyone's!) life. The ones I use so often that I find myself wondering, "what did I do before this came along?!" and most of the time, genuinely can't find the answer.
Real Techniques brushes first appeared in our lives a few years ago and I now have so many, and they are pretty much the only brushes I use: I'm pretty sure this is the case for a lot of people given their popularity. I honestly don't know what I used to use to put my makeup on but I can't imagine my makeup bag without these now. The price, the quality...everything is so right about these brushes!
Hot cloth cleansers are another staple: Liz Earle's Cleanse and Polish first introduced me to these, although I tried Superdrug's Vitamin E one first as it's a lot cheaper, a good introduction into the hot cloth cleanser world and still a firm favourite. Great for gentle and exfoliating cleansing and they seem to be so popular that life without them seems, to be dramatic, unimaginable!
Remember when Topshop was just for clothes/accessories? Thank goodness those days are gone, as their makeup is just amazing! It would be weird not to be able to pop into Topshop and pick up a lipstick as well as a new top, and in fact I would go to Topshop over some dedicated makeup brands on occasion.
Another makeup favourite, lip crayons have really been everywhere over the last couple of years and it's easy to see why! Easy to use and really moisturising, the days of simple lipstick are clearly behind us. Revlon are my favourites but I haven't had the chance to try Clinique's chubby sticks so who knows!
Since discovering Jojoba oil a while ago, it's been my nightly moisturiser ever since and has really helped my skin. I wrote a review on it the other day so won't go into too much detail other than to say that I use this every evening, and struggle to remember what I used to go for.
And finally, another daily essential: Hydraluron, praised by
Caroline Hirons
(therefore an absolute must have!) features so heavily in my daily routine that I would feel weird putting on my moisturiser without using it first!
What products can you not imagine life without? Do you use any of these?