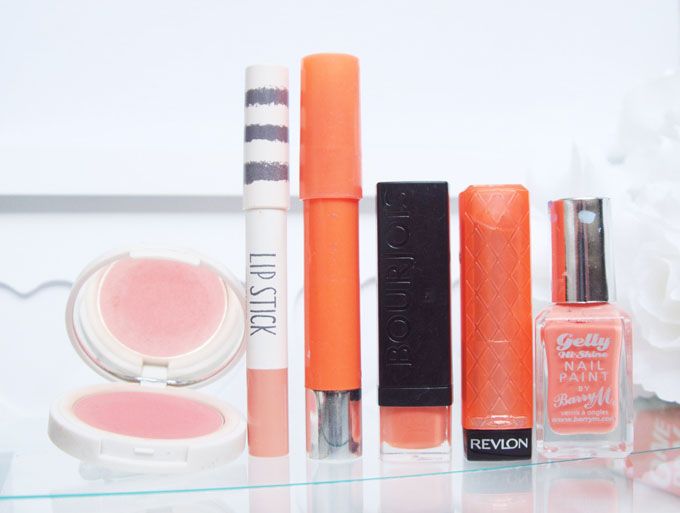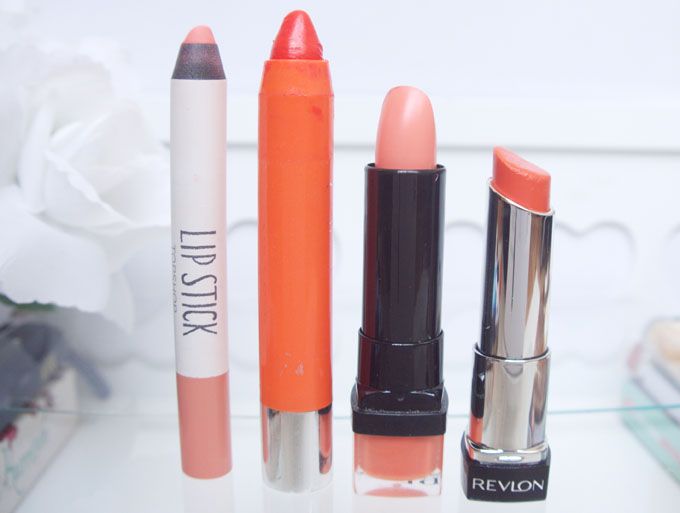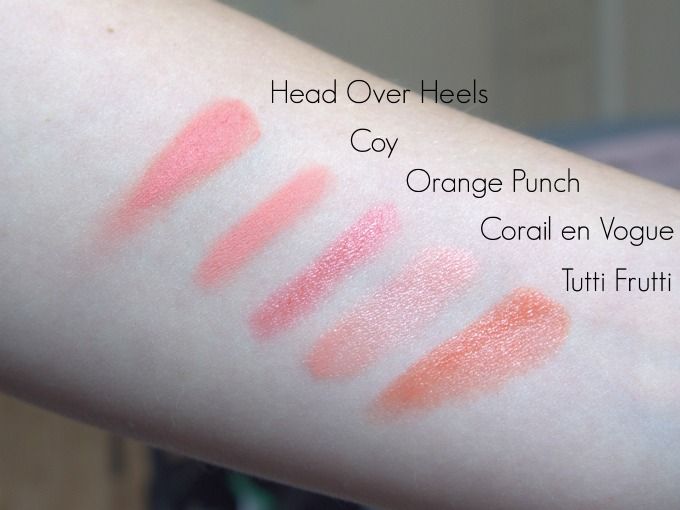 There's just something about sunshine and summer which seems to have everyone reaching for more orange-pink tones. Don't get me wrong, I love a good peachy lipstick all year round but they just seem so much more fun during the summer months, when the tan is on it's way. With the orange trend going strong at the moment, I think that peach tones are a slightly easier way to ease into this. I actually didn't realise quite how many of these shades I owned in my makeup stash, but I managed to edit them down and so without further ado I present...the peachiest of peachy shades! (see what I did there?!) I've reviewed pretty much all of these items so I won't bang on about them too much but will include links if you fancy having a nosy!
Topshop makeup is a favourite for me, so it's no surprise that two of my favourite products come from there! Their cream blushers were my first foray into the world of cream blushers, and although I haven't gone any further I blame this on the fact that a) I have no money and b) why would I when I have Topshop's finest?!
Head Over Heels
is the most gorgeous peachy pink shade, and applies like a dream. The perfect lip crayon equivalent, albeit a tiny bit chalky (moisturised and exfoliated lips are a must for this one),
Coy
comes out a lovely colour and for this I can forgive it's shortcomings texture/application wise.
Moving away from Topshop now (*sob*) and into the world of the more moisturising lip product,
Bourjois Colour Boost Lip Crayon
in Orange Punch is leaning towards the more orange side of things but with sheer, buildable coverage and lasting colour. I also wanted to include the shade Peach on the Beach from this range but I've left it at home, however I reviewed them both here which I hope makes up for it! Also from Bourjois, their Rouge Edition lipsticks are really lovely, so easy to wear and Corail en Vogue is a paler peachy shade for a more subtle but really pretty option. Revlon's Lip Butters still have a small piece of my heart, with Tutti Frutti giving a beatifully wearable orange tint to this super moisturising lipstick.
Finally, what would a pick-of-the-best post be without the inclusion of Barry M's gelly nail paints in some form. I can't get enough of these, and
Papaya
is the perfect summery shade. I'll admit to neglecting this a bit in favour of my pastel tones but I'll be reintroducing this one into rotation now that Summer is here!
Which peachy shades have you been loving? I'd love some new recommendations :)
Labels: edit, favourites, makeup, review