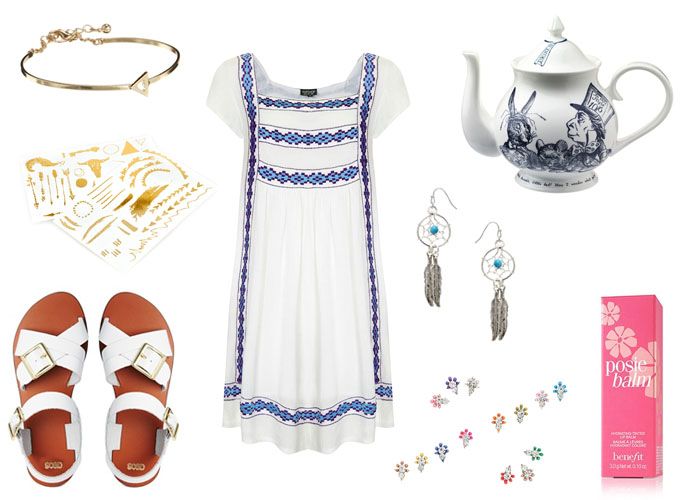 I know I'm being a bit cheeky calling this a Wednesday wishlist, but I created it yesterday and also nothing really goes with Thursday sadly :( So there we go, I'm living on the edge here! Nonetheless, I do hope you enjoy it. I realised as I was browsing the interwebs that this is a pretty random selection of items which I think reflects my state of mind at the moment - a bit all over the place!
A
simple gold bracelet
will never get old, and recently I've been loving really simple outfits with a few peices of jewellery to add interest. Any jewellery with triangles on is topping my wishlist at the moment, I just love the simplicity and geometry of them.
This
dress
is the prettiest thing and looks so so easy to just throw on of a Summer's day. A little bit boho, and the blue and white together look so fresh and clean - add that triangle bracelet and some sandals and you've got yourself an outfit!
A bit of a random addition - you were warned! - but I couldn't resist including this
mad hatter teapot
!! Alice in Wonderland is such a great story, which I definitely want to read again actually *note to self* and I love how quirky this is without being too bold and in your face.
I have my eyes firmly set on Benefit's new lip balm range to match their bestselling tints, and
Posiebalm
looks like the prettiest pink. Although I haven't yet tried any of these aformentionned tints, I can't resist how lovely the balms look and although they may well be essentially expensive lip balms, there's something about them that seems to justify the price in my mind.
I was absolutely obsessed with Bollywood when I was younger and used to watch Hindi movies ALL the time. This summer I think I will continue that love affair and add some
flower bindis
into my accessory collection!! Probably one for the festivals as I can't see myself popping one on to go to the supermarket but I love love love how they look.
The cutest
dreamcatcher earrings
, these would really add a whimsical aspect to a summery outfit and I just love them SO much.
My sister has actually already bought these gorgeous
sandals
, but they're so pretty I think I'll have to copy her and do the same. I've been looking for a pair of goes-with-everything summer shoes for a while and think these could be the ones!
Finally, I saw these
gold tattoos
on Rosie's blog,
The Londoner
(which I'm sure we all read avidly - if not, hop on over asap!) and think they would be the perfect festival accompaniement. I just love how we can get away with so much more in Summer and at festivals in particular.
If there's a slight festival theme to this post, it's probably because I'm off to Sonar festival in Barcelona next week and I cannot wait!! So excited to get some sunshine and chill out listening to some really great music. I hope you have lovely plans whatever you're doing for the next week!
Labels: wishlist