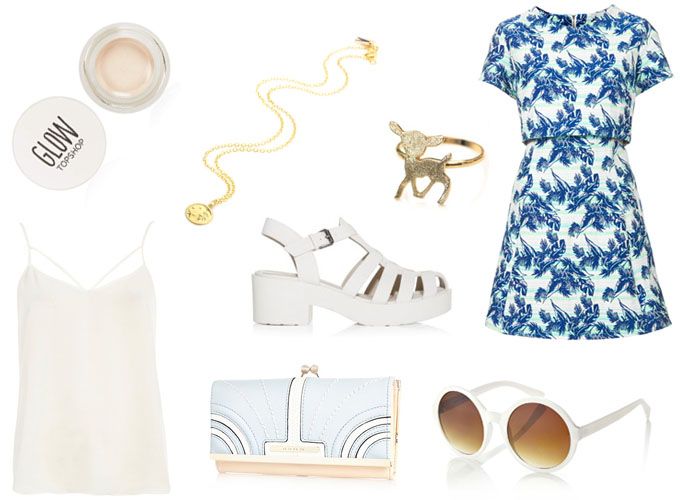 Wooo it's the middle of the week! And that means it's time for another Wednesday wishlist. I feel like I haven't done one of these in a while, and I will admit that putting together this one was both so much fun and also quite depressing, as it's strictly window shopping for me at the moment - I'm seriously tempted by the idea of going travelling for August so need to start saving the pennies.
I've most likely featured Topshop's much raved about
Glow highlighter
on a wishlist before, but I don't care because look how pretty it is!! The amount of love this gets is pretty impressive and honestly, I'm surprised it hasn't found it's way into my stash yet. Next time I'm in Topshop, this is definitely going in the basket.
Pretty jewellery is always high up on my wishlist, I love a more minimal look and this beautiful
moon face necklace
would be the perfect addition. Equally lovely is this cute little
fawn ring
which reminds me of Bambi and is just adorable!
This dress
is probably my favourite find this week, the print just screams summer! The syle is lovely as well, just a little bit different and it looks really flattering...as if I needed any more reasons to break the spending ban!
A little bit of retro glamour, these
sunglasses
are such a classic shape - I wanna say they're quite 60s, and just a bit more fun than your average pair of sunnies!
The
prettiest purse
I have seen in a while, the pastel blue and cute design of this just make it what it is - really gorgeous! I don't need a new purse, but this would be the one if I did.
You can't really go wrong with a classic cami, and I love the little strap detail which makes
this one
stand out a little, I can see a pretty weird tan resulting from this but it's still so lovely.
I don't know why but clumpy sandals seem to be everywhere at the moment and I wasn't sold at first but am firmly on board now!
These ones
manage to be just the right mix of pretty and bold.
What have you been lusting after this week?
Labels: wednesday wishlist, wishlist