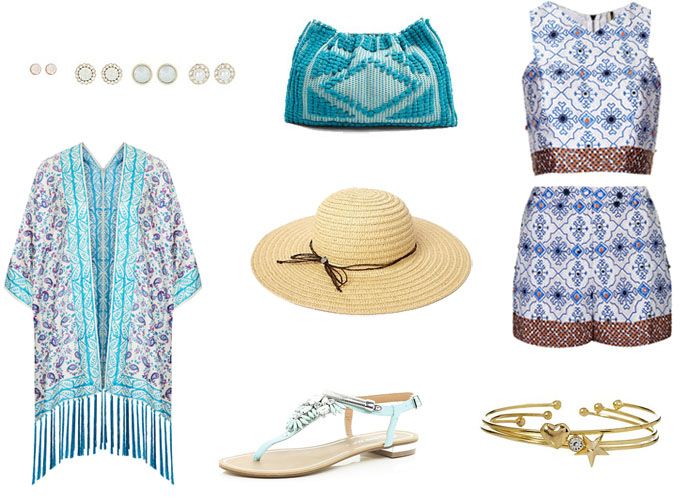 Happy hump day everyone!! Hope you've had a lovely week so far - this feels more like Sunday to me as I'm back off to work tomorrow, but after 3 days off I can't complain! I'm currently on a serious spending ban, so the wishlist this week is going to have to stay just that - a wishlist. Which is such a shame as I think this is one of my faves yet and I absolutely love everything on it!!
I have both ears pierced twice but
always
forget to actually wear earrings on a daily basis. I love really basic dainty ones and
this little selection
from New Look would be perfect for everyday wear, being quite simple but with a little added sparkle.
I discovered Oysho whilst in Barcelona and will be writing a whole post on the brand pretty soon as I just can't get enough of them!! They have an amazing sale on at the moment and this gorgeous
blue clutch
is a total steal and so perfect for Summer.
This
co-ord set
is my favourite thing this week, the print is stunning! Loving anything blue and white at the moment, add in the red band and it's just the perfect mix. I think this would be an amazing festival outfit: I wasn't sold on the matching top/shorts trend initially but am totally won over.
Continuing on the simple jewellery theme, how cute are
these
little gold bangles! Stars on jewellery are my favourite (I once almost got a star tattoo, but am happy now to just wear them on my wrist instead) and these are just lovely.
Summer = sandals, the blue of
these
would look great with a
fake
tan and they're just a little bit more glamourous than your average beach shoe.
Kimonos are definitely the coverup of the year - I wear mine all the time, they're perfect for solving the British summer dilemma of jacket or no jacket, as well as being ideal for the beach worn over a bikini! The colour and print on
this one
are
so
beautiful.
Summer hats can be a bit hit and miss but
this one
is a definite thumbs up from me!! Really basic, a little bit beachy and a perfect size for keeping the sun at bay.
What's on your wishlist this week?
Labels: favourites, summer, wednesday wishlist, wishlist