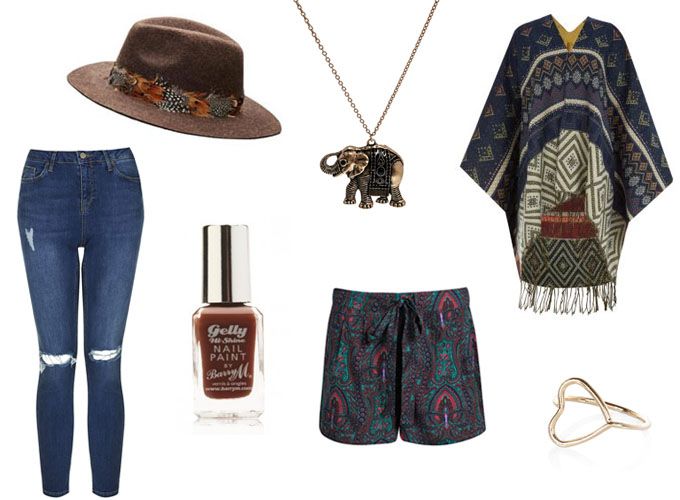 Can you believe Autumn is upon us already? I may be exaggerating slightly, some might argue that Summer is here to stay for a few more weeks but I can't help thinking about cosy knits, hot chocolate and warm autumnal colours.
Joules have really been upping their game recently, I've always loved the brand but this season I'm much more tempted than usual!! This
fedora
is the perfect autumn accessory - I love the feather detail so much. It also reminds me slightly of something you would see in MIC which is good in my books!
Elephants are one of my favourite animals so
this necklace
is just perfection. I love the off gold colour and the gorgeous design - ideal for adding interest without being too OTT.
Blanket knits are going to be massive this year from the looks of things, and I'm so happy that you can basically wrap yourself in a blankie and look good doing so! I've seen one on the Boohoo advert I'm obsessed with but
this one
comes in a very close second.
Midi rings are still going strong and you can't go wrong with a minimilastic, simple little heart design. River Island always do gorgeous jewellery and
this
is no exception.
Another brand I'm a litle obsessed with at the moment is Boohoo - I discovered them way back when they were super cheap and, dare I say it, a little tacky. Thankfully they're still cheap but definitely not tacky, and I'm lusting after pretty much everything they have in.
These shorts
are a great summer/winter transition piece + would look great with tights or a simple white shirt.
It's no secret that Barry M's
gelly nail paint
is a firm favourite of mine, and there are some really beautiful Autumn colours to choose from at the moment.
This
looks like a gorgeous browny red - I'm also tempted by Mustard and Cardamom.
I recently bought my first ever pair of Topshop jeans (I know, I know!) - the Jamie jeans in a light blue colour (from Ebay no less!). Ever since I've fallen more and more in love with the idea of building up a jean wardrobe entirely from the same style, and
these
are top of the list. Artistically distressed, super casual and the perfect colour all in one. Need.
What are you lusting after this Autumn?
Labels: Barry M, fashion, joules, new look, river island, Topshop, wednesday wishlist, wishlist