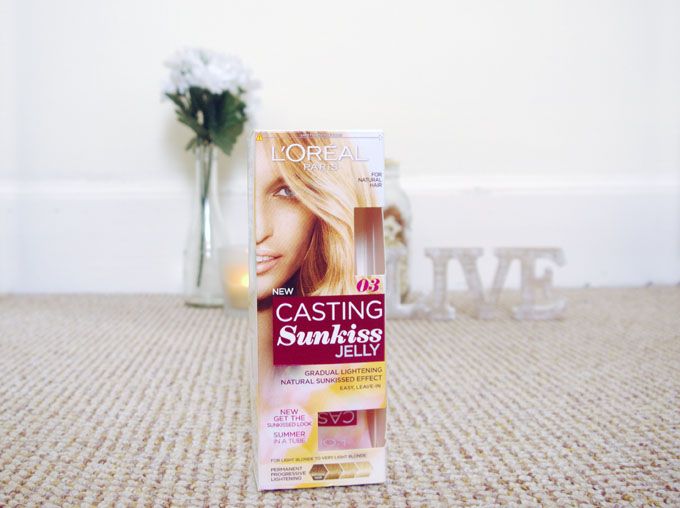 Since adding an ombre effect to my hair a few years ago, I've been pretty good at binning the hair dye habit and sticking to a once yearly refresh dye of the ends of my hair to make sure the blonde is still looking...well, blonde. However sometimes it's nice to shake things up a bit and I recently felt a craving for those kind of blonde highlights you can only really get in summer, when the sun peeks his head out. This is where L'Oréal Sunkiss Jelly comes in. I'd heard a little about this already and was pretty intrigued - it sounded like John Frieda's go-blonder spray, but with a chance for a bit more control over the placement (the John Frieda spray actually gave me blisters on my hands and dried my hair out quite a lot, so a definite thumbs down!). Also I will admit that the fact this was called a jelly pulled me in as well.
At £5.99, this isn't an expensive product and you can quite often find it on offer for £4.99, so keep a look out. Coming in 3 different shades: 01: for light brown to dark blonde, 02: for dark blonde to light blonde, and 03: for light blonde to very light blonde. Honestly, my friends and I have spent some time figuring out which is strongest so if anyone knows leave a comment! As the name suggests, this promises to gradually lighten hair to give that just got back from a holiday effect - L'Oréal have also called this 'summer in a tube' which if they could create would be great, however on the hair it definitely delivers! Enriched with camellia oil and containing no ammonia, this also aims not to dry out your hair, which being something I have struggled with a few other lightening products, is a welcome change.
Application
You use the jelly on dry hair, and it really is the easiest thing to apply. You simply pop on the included gloves, squirt a bit onto your hands and apply where you want your hair to be lighter! You can use this to add an ombre effect, or for all over lightening - on my first tube, I went for the latter, and now I'm on my second purchase I'm using it just on the ends to brighten them up as I'm now as light as I want to be on top. Once your happy, either let it dry naturally, or for increased effectivity, blow dry your hair - I always did this as I wanted to get the most out of it. I previously had really long hair and managed to get 3 all-over applications from the tube - now I have shorter hair and am using it on the ends, I've done 3 applications and will probably get one more.
Results
Honestly, I am so happy with the effect this produces. It is a gradual lightener so don't expect a massive difference the first time, but it really does add a lovely lift to your hair and after a few uses there is a pretty clear difference. I also found that it brightened up my existing blonde and turned it a much nicer shade, which was a nice added bonus - it might not do this for everyone, my blonde wasn't the best shade when I first used it and could have done with a bit of help, but nonetheless a nice addition! I love the control you get using this, which I am really appreciating in using it for the ombre effect at the moment. I haven't found it to dry my hair out at all either which is great.
All in all, this is a lovely little product and pretty much does what it says on the tin - a natural sunkissed effect, with minimal fuss and effort.
Labels: currently loving, hair, L'oréal, review