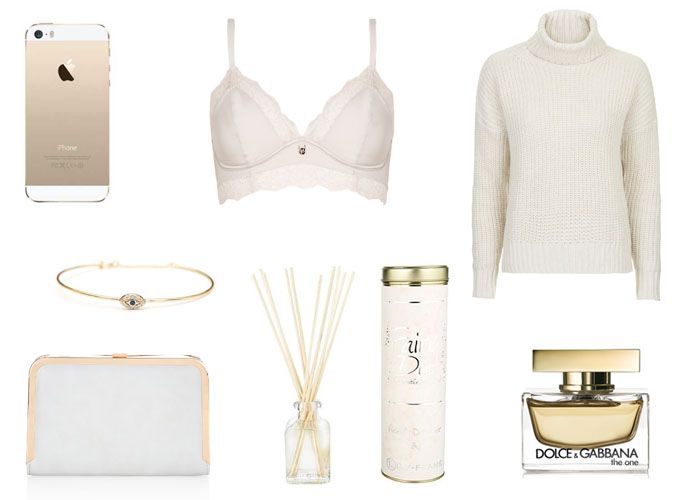 Clockwise from top left:
Today's Wednesday Wishlist reflects my desire at the moment for soft textures, neutral colours and general relaxation, with a hint of excitement that Spring could just be around the corner (this is my optimistic side speaking, since at home it's begun to snow).
A new phone has been firmly on my wishlist since last September, when mine began to freeze on me. I managed to fix that little niggle but have been dreaming of an
iPhone
ever since - I've never owned anything from Apple but have a feeling that this year all that will change.
The entire Rosie for Autograph and M&S range is absolutely gorgeous, and has a really luxurious feel to it. I've been lusting after this
pretty bra
for a while now for its silk/lace combo and lovely nude colour.
Roll necks are something I never expected to get on board with, but am certainly warming to the idea.
This
just looks so cosy and versatile, plus it would keep your neck warm!
This perfume
smells absolutely divine, and there is a lot to be said for a classic, understated perfume bottle! I don't normally go for perfume but aside from Thierry Mugler Angel, this is the best scent I've found yet...a definite splurge but oh so tempting.
Talking of things which smell divine, this Fairy Dust
reed diffuser
certainly does. I recently got an Airwick candle (I think?) and it makes my whole room smell so amazing but is on its last legs - this would be the perfect replacement.
Understated, minimal and super pretty, this
clutch bag
would be a great spring/summer addition. The rose gold detailing stops it from being too boring - rose gold will always be a favourite!
I used to wear evil eye friendship bracelets all the time from family holidays to Turkey, and
this
is a much more grown up and sophisticated version! Really simple and from an Etsy shop which I am totally addicted to at the moment.
What's on your wishlist this week?
Labels: fashion, wednesday wishlist, wishlist