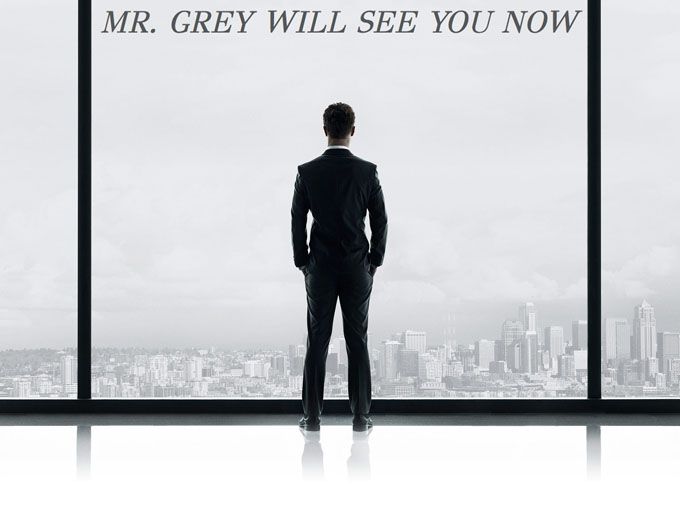 The 50 Shades of Grey film has to be one of the most hyped up and talked about releases of 2015 so far (granted we are only in February, but I doubt another film will come as close for a while!). Based on the now infamous book trilogy of the same name, it's taken a long while for the screen version to finally hit cinemas - but was it worth the wait?
Last night, we finally got to see what the fuss was about. The atmosphere in the cinema was definitely very excitable - when the Magic Mike trailer came on eveyone cheered - however at last the opening credits hit the screen and from then on out it was laughter, cringing and conspiratorial whispering for a good 2 hours. I've read a lot of terrible reviews of the film, calling it lacking in chemistry, embarassing and "the worst film ever" - this is not one of those reviews (although I'm not disagreeing with all of those claims). Instead, in defence of 50 Shades of Grey, just putting it out there - I enjoyed this film.
By no means is it an Oscar contender. But then, the book was pretty terrible too - and we still bought and devoured it in our millions. The makers of the movie definitely relied on this fact (perhaps a little too much) and assumed the audience had already read it, as there were a lot of little details you just wouldn't get if you didn't already know. Anastasia had been updated into a slightly more strong willed and feisty version of her literary self, whilst Christian Grey was as brooding as ever. I wasn't sold on the choice of actors before the film, but they're winning me over. Not completely, but almost.
The lines were cringe central, but then that's the same in the book - if you ask me, the filmmakers didn't have a lot to go on. Everything which was annoying in print was annoying on screen - the biting of the lip every other minute, for example. Thankfully they cut out the 'inner goddess'. There were definitely a lot of laugh out loud moments, purely because of how embarrasing the screenplay was at times, but honestly this added to the experience, if not in the intended way.
The most anticipated element, however, had to be those hyped up sex scenes, which were done relatively well and made up enough of the film that they were still an important feature without being too in your face. Given that the book is all about the sex, they could have done more bu
t it's a film for mainstream release - go figure.
All in all, this was a pretty well made adaptation of a massive hit book. I already loved the books, so perhaps I'm biased, but if you watch it with an open mind, not expecting an award-worthy classic, you won't be disappointed. The creators managed to navigate a potentially difficult situation to make an enjoyable, light film which doesn't seem to take itself too seriously. Yes, they could have done better, and it's not perfect. However despite this, and despite all the cristicism, I loved watching it. A terrible yet brilliant film.
P.S. I can't not mention the soundtrack - amazing.
Have you sen 50 Shade of Grey? What did you think?
Labels: 50 shades of grey, film, lifestyle, review