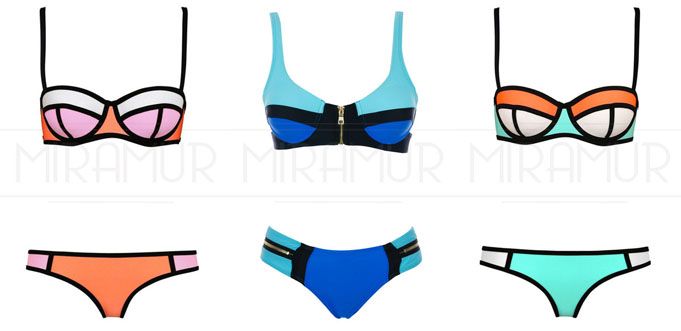 I have to admit that writing about bikinis whilst the wind is howling outside and it's still pretty chilly seems a little premature, but I wanted to tell someone about this amazing find and I couldn't wait to do it! Triangl swimwear burst onto the scene last summer, and all of a sudden you couldn't scroll through Instagram or read more than a few blogs before seeing one of their signature neoprene bikinis pop up. Along with most of the world it seems, I fell in love but couldn't really justify the price tag considering how little use I'd realistically get out of a bikini (I'm sure if I lived next to the beach somewhere hot I'd see it as more of an investment!). I bought a dupe from Ebay, but coming from China the sizing was completely off and the top half would have given a little bit too much away if you catch my drift. However, I'm hoping that this time around I've had more luck because I think *fingers crossed* I have found the perfect dupe!! I actually heard about this brand when Stephanie Pratt (I didn't expect to love her on MIC but I just do!) posted a photo on Instagram, immediately checked them out and fell in love.
The brand in question is
Style Miramur
, an online shop full of pretty and statement swimwear and accessories (they have metallic tattoos, helloo festivals!) - just LOOK at those gorgeous panelled two pieces. I do feel a little bit bad sharing this because as I type most of these are actually sold out, but fingers crossed they'll be restocking soon - I currently have my eye on the Lucy style in coral. The thing that really caught my eye though was the prices - these sets are all £20, which is pretty bargainous if you ask me. They are sold as sets, which is a shame because so often you need to get a different size top from bottom, but I'm hoping the sizing will work out ok and you can't have everything! I haven't had the chance to buy one yet because they're not in stock so this is really just a wishlist/a little heads up if you've been looking for an alternative to the gorgeous Triangl bikini style like I have.
Have a wonderful weekend!