The Topshop sale is just amazing at the moment (and all other sales for that matter...Zara, anyone?!) and after having a little browse spending all morning stalking every single page I decided to put together a wishlist of some of the bargains which are seriously tempting me (I may have already made a cheeky little order despite my self imposed spending ban).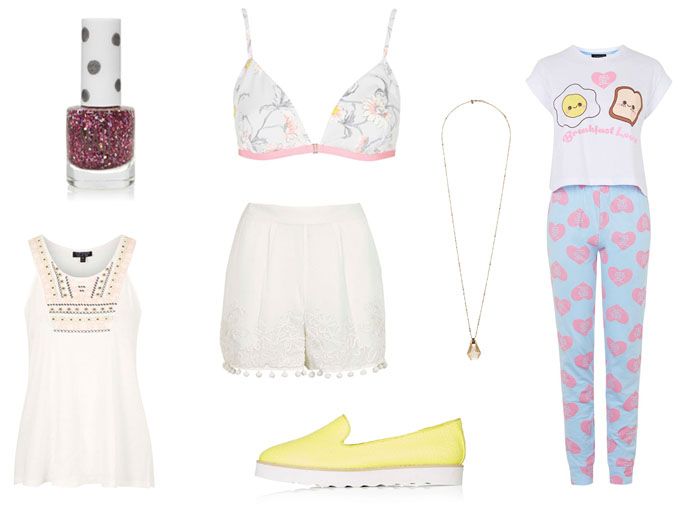 I love sparkly nail polish so naturally
this little gem
has made an appearance, I love the pinky purple shade and think it would be gorgeous for Summer nights despite being perhaps a little more Autumnal! // I've wanted a
triangle bra
for ages and this ticks all my boxes for being super cute - I love the pretty print and pastel colours. // This gorgeous
tear drop pendant
would look amazing with a simple white tee. I've really been getting back into wearing jewellery (I usually forget to put it on in the morning)! // Super super cute
'breakfast lovers' jimjams
, because who doesn't love adorable nightwear + breakfast! // I'm kicking myself for not adding these
yellow shoes
to my basket earlier and may have to make another order, the colour is so summery and they look really comfy as well! // The detailing of this
white top
is so pretty and lifts it up from being too plain, whilst these
shorts
would be ideal with a tan for a beachy holiday.
I'm intrigued by this
cheek jelly
(here in the shade Beep): promising a natural flush with sheer, buildable coverage it sounds ideal for summer and will hopefully be a lot less bright and more 'natural summer glow' than it appears in the pan! A total bargain as well, at £2 and there are quite a few other shades to choose from. // Adorable
Minnie Mouse erasers
because cute stationary is always a winner, as is Disney. // I couldn't believe it when I saw this
bardot top
in the sale, as I already featured it on a previous wishlist and had just fallen in love with it. It's only available in petite sizing at the moment, but I think it is well worth the risk even if you're taller as it's just so beautiful. // Orange lipstick can be pretty scary, but
this
looks very wearable due to it's sheer formula and again, is ridiculously cheap - Topshop makeup has never disappointed in the past, so this seems like a great buy. // This is such a beautiful
skirt
, I love the detailing and it would be perfect all year round...hello investment shopping! // Yes, these are the same
shoes
as above...but in black, so really totally different! I'm currently torn between the two...// Another 'why didn't I add this to my basket' item, the snakeskin print and gold detailing on this
bag
are so lovely.
Have you made any sale purchases?