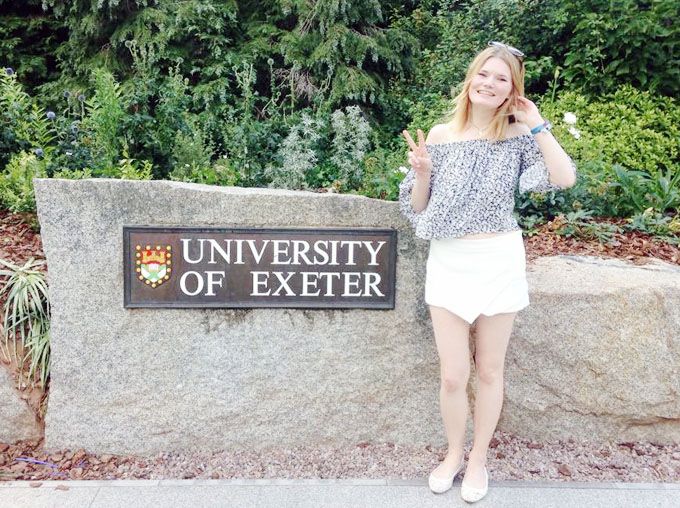 On Tuesday last week, I donned my graduation robes and can't quite believe that as I'm typing this, I sit here as an official graduate with a 2:1 hons in English and French! My ceremony was at 11.45 in the morning, so I had time to nervously get ready and prepare myself to not fall over on stage no matter what - I think everyone has this fear about graduation day at some point!Having prepared for this day for so long, it felt quite surreal to take my seat in the Great Hall, but before I knew it my name had been called and our chancellor - Floella Benjamin - was waiting to hug me and pass on some inspiring words. It's a bit of a tradition now at Exeter that she hugs each graduate as they come onto stage, and gives them some advice for the future, always ending with "make me proud". I think it's such a lovely way to send off graduates and as cheesy as it sounds, it really adds something to the day!
Graduation day was so lovely, but it's also quite a nerve filled day. Fortunately we were able to enjoy the rest of the week, go to a few more receptions (it's a lot easier to enjoy these when you can relax and not worry about the formalities of your own graduation!) and make the most of Exeter's wonderful nightlife (I say that ironically, but this week made me realise just how much I will miss it). Unfortunately that same wonderful nightlife claimed my phone and so photos are a little lacking, but it's made me realise that there is a lot to be said for a night out without having constant access to social media and a camera. Spending time with my housemates, seeing friends and just enjoying the perks of being a student with none of the workload stress was the perfect way to say goodbye to somewhere where I have spent some of the best years of my life.
Graduating from University is a bitter sweet experience: on the one hand, it's incredibly exciting and I feel so proud of myself and my friends for getting good results and for having survived the final year. On the other hand, there are so many good memories and being a student has been such a brilliant experience that it's so sad to think that it's all over. It's easy to look at things through rose tinted glasses, and I know that after four years I was ready to move on to something new, but it's a different feeling once it's actually time to do so.
I'm going to stop here before this gets too cheesy and waffly, congratulations to anyone else who has/is/will graduate this year! It's safe to say (perhaps controversially?!): Exeter - not probably, but definitely the best university in the world.


Labels: graduation, lifestyle, university