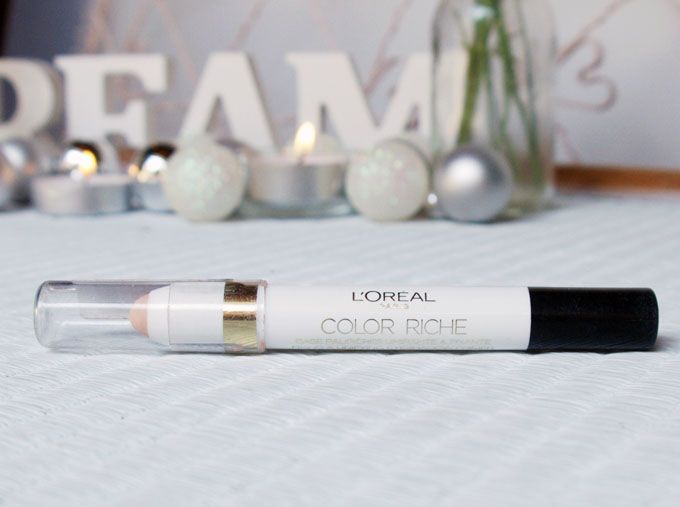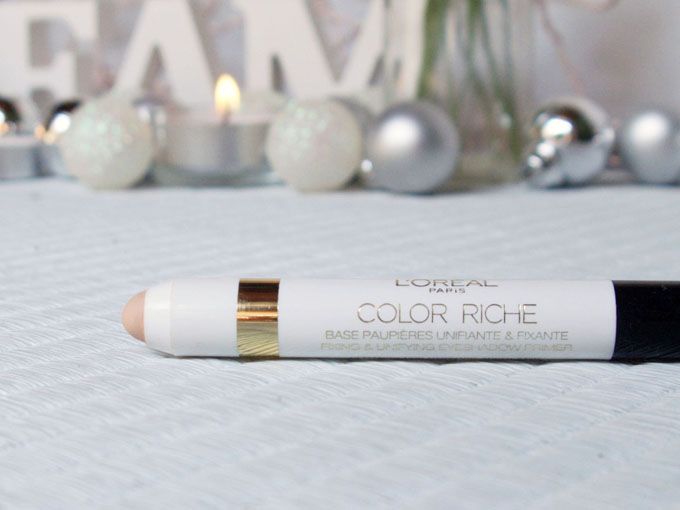 L'Oréal Colour Riche Eyeshadow Primer | £5.99
Eye primers were brought into my life with the purchase of my first Naked palette (I feel like I compare all eye makeup to this palette, I hold my hands up - it's just amazing and I can't help it!). That ran out a LONG time ago, and since then I've kind of avoided looking into getting another primer (the one you get with the palette is sample size and doesn't last a long time, but it's flipping amazing). I wrote it off as one of those products which are nice to have, but not essential - even though I knew what a difference it made when I used it, both to the way my eyeshadow looked and its staying power. Eyeshadow primer didn't jump out at me from the shelves at Boots and Superdrug, so I didn't make much effort to try to find a decent one. I feel as though eye primers are something more affordable brands either don't focus on, or don't advertise much, because I felt like it was a challenge to find one. However just before Christmas I decided enough was enough: I needed a little primer magic in my life, and I wanted to find a good yet affordable one to do the job.
Cue L'Oréal's Colour Riche Eyeshadow Primer, packaged in gorgeous, sleek white chubby pencil form. A nude crayon style eye primer, billed as both "fixing and unifying", it appealed to me immediately and I've always enjoyed using L'Oréal products. I was looking for something which would both intensify my eyeshadow as well as help it to stay put all day. Normally, I do find that my eye makeup will start to look a little worn after a few hours, especially in warmer weather, so something which would solve this problem would be more than welcome. So does it live up to my hopes?
First things first, I have pretty dry skin and this includes my eyelids. In this area, the eye primer is not the best. It's pencil form doesn't translate as being very moisture rich, and I do find that as a result it doesn't go on quite as nicely as I'd like, slightly highlighting drier patches, although as it's the primer and not the finished result, this doesn't bother me and I wouldn't say that the fact it isn't super dry skin friendly is a huge issue. It does blend quite nicely, providing a good base, I just feel that it could be slightly creamier. That aside, I have really enjoyed using this lovely little product and it has become a solid staple in my makeup routine. The fact that it's nude, and matte, means that it provides a great neutral base for any eyeshadow and doesn't interfere with the colour at all. I don't find that it does an outstanding job at intensifying eyeshadow colour, but it definitely helps the shadow to appear bolder and more pigmented. Staying power is where this really works for me: I've worn my eye makeup over this to work on numerous occasions now, some in the hotter weather we've been having recently, and have found that it stays put and hasn't budged even slightly by the end of the day. I sometimes find that having drier skin can mean that usually, eyeshadow simply doesn't stick, but this has really helped with that as well - so a thumbs up from me!
I apply this straight from the nib, and use my finger to blend it in, creating an even base to which eye makeup takes really well. The pencil form makes it super easy to just pop in my makeup bag, so it's a great on-the-go product. All in all, I'd highly recommend this as a great, slightly more budget eyeshadow primer - at £5.99 it's not ridiculously cheap however neither is it going to break the bank. All that said, as a product hound I will likely try out a different brand next as this was my first drugstore primer, and I'd like to see what's out there for comparison. But if you're looking for something fuss free which does the job, this is a winner in my books.