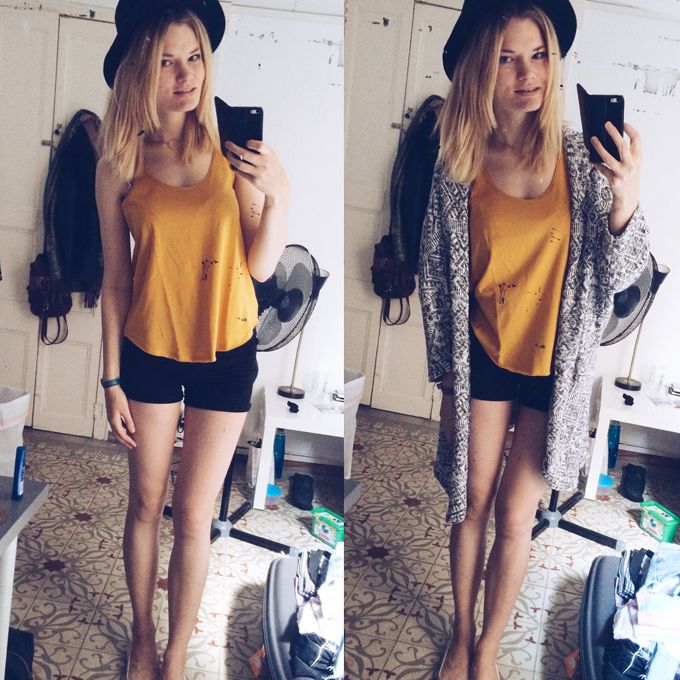 Happy Monday! One thing I definitely want to start doing is branching out into including OOTDs on here, and what better way to start than sharing a few snaps from Instagram (filters are everything)?! A few days ago, the weather in Barcelona got a teeny tiny bit chillier, which was the perfect excuse to crack out this cardigan, which I bought in Primark around Christmas time. I love how the length, and it's not super heavy but definitely perfect for both Summer and Winter as it's loose and you can either snuggle up in it, or wear it like a summer jacket. I also discovered Zara's 'Special Price' section the other day (I think this is in the UK as well?) and there were a whole array of vests and t-shirts for
€4.95. Obviously I couldn't resist, and picked up a few in different colours, including this mustard one. Not normally a colour I would go for, I've been absolutely loving it and it's fast becoming a morning go-to.
I've also finally managed to brave buying and actually wearing a kind of fedora hat. I have one back in the UK which I wore a lot in Winter, but for some reason since then I've become a bit wary of wide brim hats. Does anyone else have that one thing that they think looks really cool on other people, but are scared of wearing yourself? Fedora hats were like that for me, but I've broken through the barrier and I am in love with the one I bought a week or so ago from Pimkie.
This was a workday ensemble, my office here in Barcelona is quite relaxed when it comes to a dress code so whilst I still like to look relatively smart, the dress code is casual which is especially ideal for hotter weather. In other news, I've managed to sign up for Spanish classes now which is great as I hate living in a country but being unable to at least attempt to communicate in the native language. Pretty soon I'll be fluent, just watch!
Hope you had a beautiful weekend, and you can follow me on Instagram @ablondex.