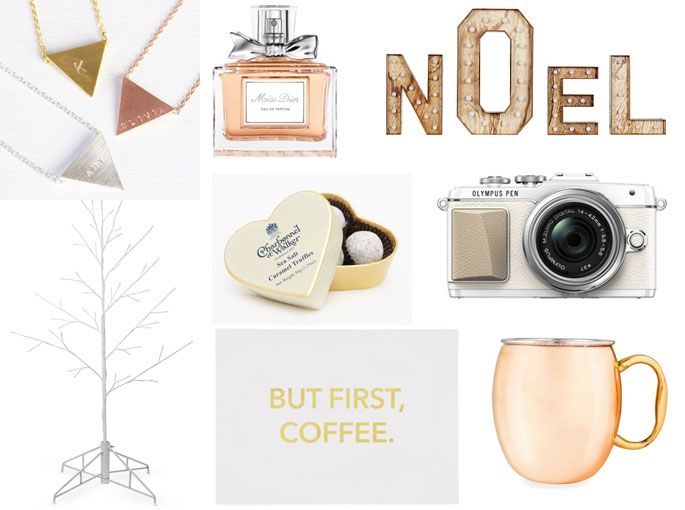 The festive season is pretty much upon us, with Christmas songs starting to make their way onto the radio, lights being switched on and decorations put up. Although I absolutely love Christmas and take every opportunity to get into the festive spirit, it still feels a little too early to go into full-blown Christmas mode - so I thought I'd ease into things with a slightly Christmassy, slightly just rose gold and pretty, wishlist.
I've recently discovered Lisa Angel and it's safe to say that the majority of their jewellery will be making it's way onto my Christmas list. I've saved my favourite pieces for another post, but these gorgeous triangle
personalised necklaces
are so pretty I just had to include them.
Who can resist a gorgeous perfume bottle (hint: not me), and especially with the party season coming up I think it's the perfect time to treat yo'self or pop this on the Christmas list, you can never go wrong with a
classic scent
.
Christmas lights: need I say more?! OK so this is pretty pricey and so firmly a wishlist item but if I had no budget and wanted to make my house look Pinterest perfect I have no doubt this
'Noel' light set
would be one of the first things I'd buy.
It's hard to avoid this
Olympus camera
at the moment, it's fast become a bloggers favourite and it seems like everyone and their dog has it on a wishlist of some kind. I've only seen positive reviews, and with offers like
In the Frow's 25% off
it's seeming like an increasingly attractive investment.
I actually saw this mug first in Sainsbury's, and if you see it there definitely grab it as it's the cheapest I've found, however it seems to be sold out online so I trawled the internet to find a similar option. I love the copper mug and gold handle combination, and this one from
IWOOT
is just gorgeous.
Homeware, accessories and stationary store Lily Rose Co. never fails to have such an array of lust-worthy items. With a wide variety of beautiful prints, this
'Coffee'
one is definitely a favourite - because, coffee.
We have a similar Christmas tree to
this one
from M&S at work, and it's so stunning. A brilliant alternative to an actual Christmas tree, or a pretty addition, it lights up and looks so subtle yet festive.
Sea salt caramel truffles
- need I say more?! My love affair with salted caramel has shown no signs of slowing down, so these are pretty much perfection.
What's on your wishlist this week?